Blog
(日本語) 味噌作り出前授業~自分で育てた大豆を使って~
New product Amazake zero ~SAKURA~
Here, we introduce you our new product which is perfect for coming sping season.
Amazake 0 ~SAKURA~
This is limited item only for spring.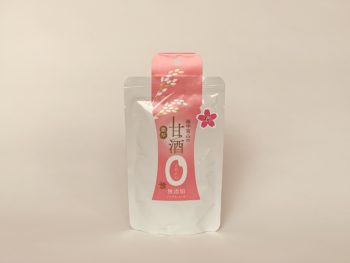 We found non-additive Sakura, finally.
Natural pink color and elegant taste are very special.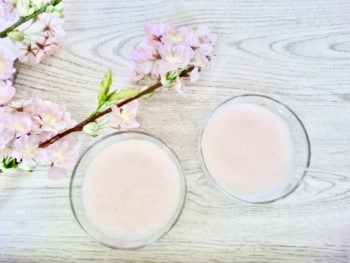 In Japan, we enjoy pink rice cake which is made with SAKURA in spring term, this is called SAKURA-MOCHI.
This product has really similar taste to Sakura-mochi because our amazake and rice cake has common ingredient "rice".
Though Amazake contains almost no sugar (actually we use a little sugar for sakura preparation), we can enjoy healthy Sakura-mochi.
You can eat it like yogurt but also mix with milk or iced in freezer.
(I love to pour it over milk ice cream!)
Enjoy your spring time. Thank you for reading our blog.
(日本語) 土用の丑の日 なぜウナギ?
KABAYAKI NO TARE 350g
醤油の香りが癖になる「蒲焼のたれ」、おかげさまでどんどんリピーターが増えております。
ありがとうございます。
でも、ウナギ以外にも食べると良いものがあるそうですよ。
なぜ土用の丑の日にウナギを食べるようになったのか、諸説あるそうですが、一説にはこんな話があります。
「暑くて食欲がわかない土用の丑の日には、しっかり栄養をとってもらおう。
 ウシの日だから、『ウ』から始まるもの・・・『ウナギ』でどうだ!」
こんな拍子で土用の丑の日には『ウナギ』という習慣が浸透したとか。
というわけで『ウ』から始まるものなら何でも食べて良いそうです。
・うどん
・梅
・ウニ
・卯の花
・魚(ウオ)・・・?
こんな風に今日のメニューを考えるのも楽しいですね。
調味料屋がぱっと思い浮かぶのは・・・
『ウースターソース』(笑)
ウースターソースと言えば、ヤマゲンのコロッケソース(レトロ)。
70年前に発売した「ヤマゲンソース」が原型です。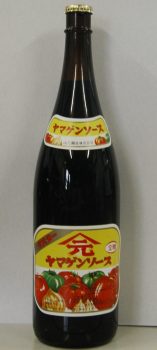 こんな『ウ』の取り入れ方もいいですよ!
(日本語) 富山・冬の味覚、かぶらずし作りに挑戦!⑤:できあがり
Making Toyama's winter specialty "KABURA ZUSHI" part4
It is the time to start main fermentation, "Koji-duke".
We just have to wait for 1 more week after this process.
For this time, we used 5 packs of Amazake 0.
And we prepared other toppings for decolation, 1/3 of carrots (cut in small) and 2 of dried red pepper (slice). Prepare vinegar for Buri (yellowtail fish). Any vinegar is available.
Then, let's check the staffs we prepared.
Firstly, check the yellowtail.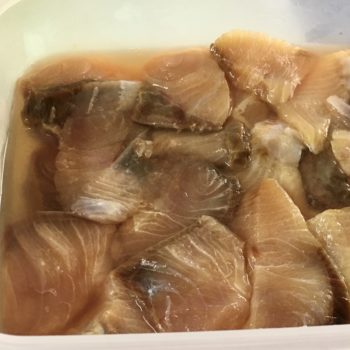 Looks nice. Drain the salt water and put vinegar until yellowtail covered. 
Thanks to vinegar, the unique aroma of yellowtail gets mild.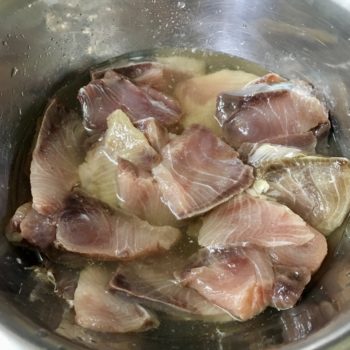 Wait for a half to one hour. Put plastic wrap.
During this time, prepare carrots and red pepper.
Next, check the radish (or turnip).
Looks also nice.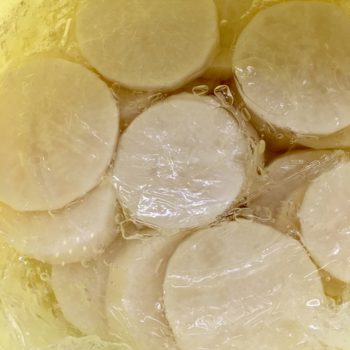 Drain the salt water.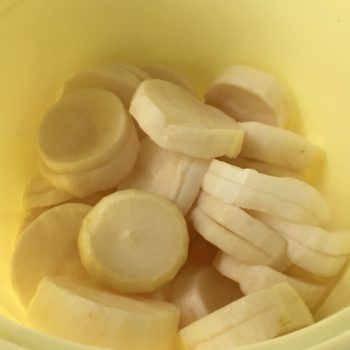 This is "Tsukemono" (Pickles).
By the way, here are the weight differences before-after pickling.
– Radish:1700g→1070g(-37%)
– Yellowtail:700g→557g(-20%)
When the yellowtail is ready, let's start the main fermentation.
Firstly, put amazake on the bottom of container.
Put a yellowtail between radish. Like below.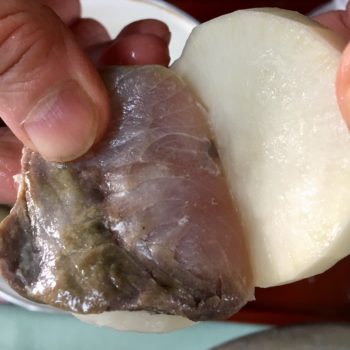 put into the container.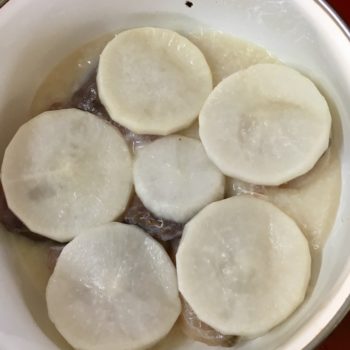 Before going to next phase, put Amazake, carrots and red pepper.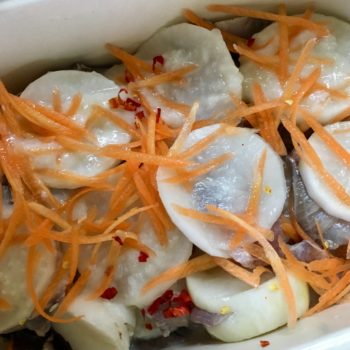 Repeat putting Radish&Yellowtail→Amazake&Carrots&Red pepper→Radish&Yellowtail→Amazake&Carrots&Red pepper…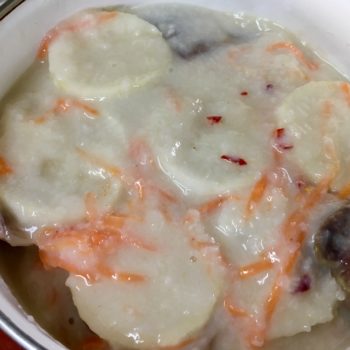 At the last, put all amazake on the top phase.
Covered with plastic wrap, then just wait for 1 week below 10℃.
Oh, here is the last point!
Please do not use weight stone on the first day to infiltrate them with Koji-amazake.
From the second day, put the weight stone.
I am looking forward to the day after 1 week, it will be a New year's day!
★Schedule★
18th Dec. Prepare radishes. Pickle with salt. →done
20th Dec. Prepare Buri. Pickle with salt.→done
24th Dec. Stuff Buri between radishes like sandwich. Soak with Amazake 0. →We have just done it!
31st Dec. Ready for eat(●^ー^●)