Making Toyama's winter specialty "KABURA ZUSHI" part4
It is the time to start main fermentation, "Koji-duke".
We just have to wait for 1 more week after this process.
For this time, we used 5 packs of Amazake 0.
And we prepared other toppings for decolation, 1/3 of carrots (cut in small) and 2 of dried red pepper (slice). Prepare vinegar for Buri (yellowtail fish). Any vinegar is available.
Then, let's check the staffs we prepared.
Firstly, check the yellowtail.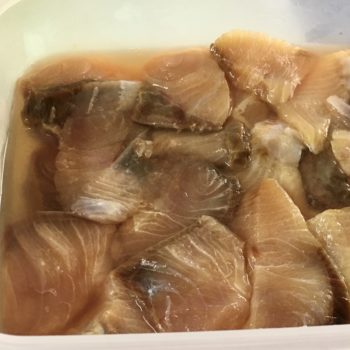 Looks nice. Drain the salt water and put vinegar until yellowtail covered. 
Thanks to vinegar, the unique aroma of yellowtail gets mild.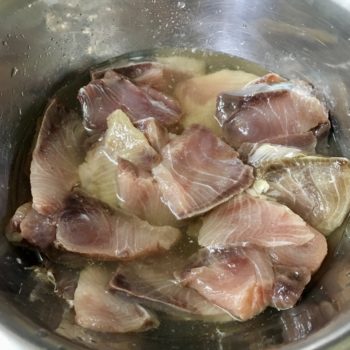 Wait for a half to one hour. Put plastic wrap.
During this time, prepare carrots and red pepper.
Next, check the radish (or turnip).
Looks also nice.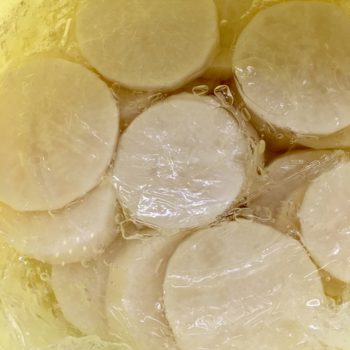 Drain the salt water.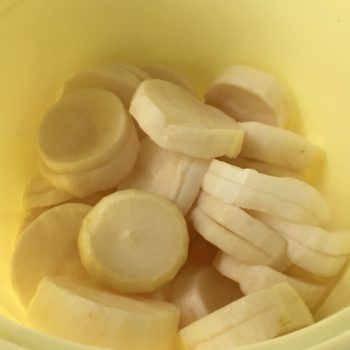 This is "Tsukemono" (Pickles).
By the way, here are the weight differences before-after pickling.
– Radish:1700g→1070g(-37%)
– Yellowtail:700g→557g(-20%)
When the yellowtail is ready, let's start the main fermentation.
Firstly, put amazake on the bottom of container.
Put a yellowtail between radish. Like below.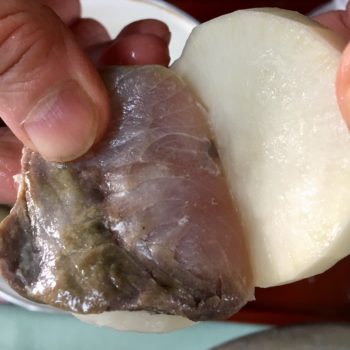 put into the container.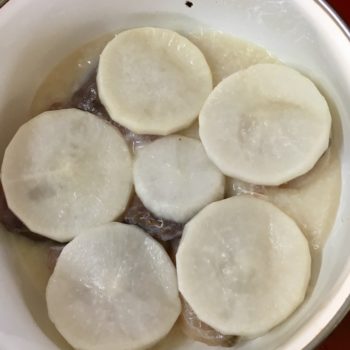 Before going to next phase, put Amazake, carrots and red pepper.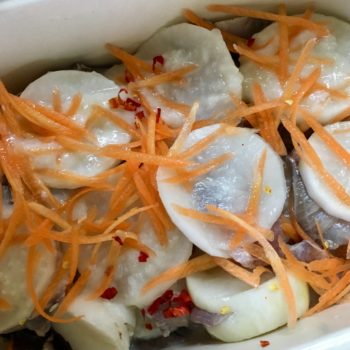 Repeat putting Radish&Yellowtail→Amazake&Carrots&Red pepper→Radish&Yellowtail→Amazake&Carrots&Red pepper…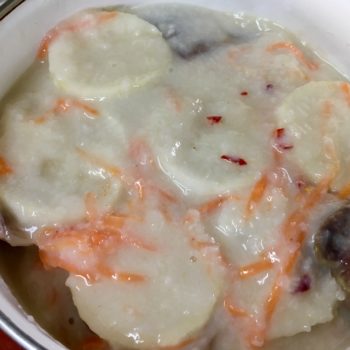 At the last, put all amazake on the top phase.
Covered with plastic wrap, then just wait for 1 week below 10℃.
Oh, here is the last point!
Please do not use weight stone on the first day to infiltrate them with Koji-amazake.
From the second day, put the weight stone.
I am looking forward to the day after 1 week, it will be a New year's day!
★Schedule★
18th Dec. Prepare radishes. Pickle with salt. →done
20th Dec. Prepare Buri. Pickle with salt.→done
24th Dec. Stuff Buri between radishes like sandwich. Soak with Amazake 0. →We have just done it!
31st Dec. Ready for eat(●^ー^●)