Making Toyama's winter specialty "KABURA ZUSHI" part1
It is already December and we had a lot of snow last week.
Now, we started to prepare "お節料理(OSECHI RYORI)" which special dishes for coming New Year Day.
…Do you think why we started to cook OSECHI though we have still 10 days?
We need to cook a special menu. It is "かぶらずし(KABURA ZUSHI or KABURA SUSHI)".
KABURA means a turnip and SUSHI means…no need to explain.
This is picture of KABURA SUSHI.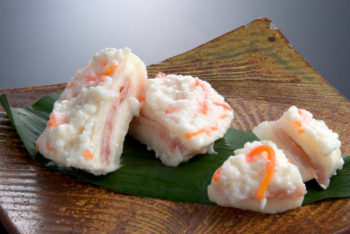 You may think "oh, this is just vegitable, no sushi!"
Look deteil, please.
You can find Toyama's specialty "Buri (yellowtail fish)" between slices of turnips.
And you can find KABURA SUSHI is coverd with something like white snow.
This is rice, actually malted rice (Kome-Koji).
Koji is important fungi of Japan (wikipedia).
It contains a lot of efficient enzymes and produces nutrients and umami; essential amino acids, vitamins, glucose, peptides, oligosaccharides e.t.c.
KABURA SUSHI is not only delicious because of rich umami and but also healty because of fermentation power.
Depends on areas, a turnip is replaced by a white radish and Buri (yellowtail) is replaced by mackerel or salmon. Every combination is great!
It is said that this food culture was born by farmers
To eat delicious fish (especially Buri) in secret, they stuffed fishes into vegitables.
(If goverment officers find delicious fishes, fishes are all taken away.)
Now, let's make KABURA SUSHI with Yamagen's new item "Amazake 0 (Zero)".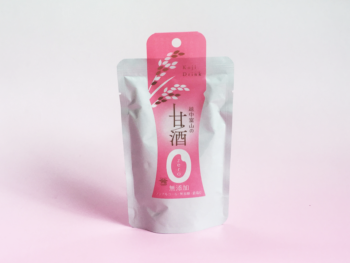 This is Kome-Koji which is ready for using KABURA SUSHI.
Very sweet and a little thick character is best for KABURA SUSHI making.
Furthermore, this contains no addictive, no sweetener and no salt.
Good for your health.
By the way, we use radish instead of turnip this year because we got a lot of radishes from our neighbor!For fish phase, we use Buri (yellowtail) from Himi city, Toyama.
★Schedule★
18th Dec. Prepare radishes. Soak with salt. 
20th Dec. Prepare Buri. Soak with salt.
24th Dec. Stuff Buri between radishes like sandwich. Soak with Amazake 0.
31st Dec. Ready for eat(●^ー^●)
I can't wait for eating this.
I will explain the detail recipes in following articles.
See you!