Time saving dishes
Local dishes
Tsuyu Soup Base
Summer
TOYAMA SHIROEBI SOUMEN
Cooking time
10

min Difficulty

★

Soumen noodle is a essencial dish in summer. Especially, in Toyama area, people use white shrimp for the soup stock. The taste is ellegant and you can enjoy "Summer in Toyama" easily with "SHIROEBI TSUYU".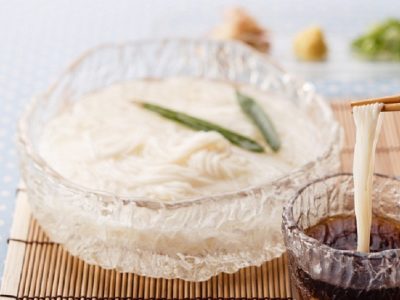 Ingredients(4servings)
| | |
| --- | --- |
| Soumen noodle | 4 bundles |
| SHIROEBI TSUYU | 40cc |
| Water | 120cc |
Featured Products
How to make TOYAMA SHIROEBI SOUMEN
1

Boil "soumen noodle" to package directions. (Normally, place 4 bundles of soumen into a large pot filled with 2 ritters of boiling water for approx. 2mins.)

2

Take out the boiled somen from boiling water and then wash the noodles by running water. Put the soumen into cold water with ice.

3

Mix 40cc of SHIROEBI TSUYU with 120cc of cold water.

4

Dip soumen into SHIROEBI SOUP.
(日本語)
白えびつゆは白えびから直接丹念にだしをとったこだわりの一品。県外の方はいつもと違うそうめんをぜひお試しください。