Time saving dishes
Party dishes
Sweets
Koji
Non-sugar Tiramisu
Cooking time
5

min Difficulty

★

Easy cook sweets. Just mix Amazake 0 and cream cheese. In this recipe, Amazake 0 is used instead of sugar and cream. Healthy and nutritious sweets which make you smile :)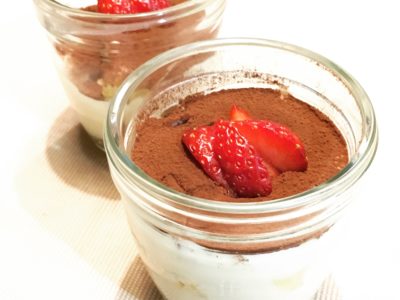 Ingredients(3servings)
| | |
| --- | --- |
| Amazake 0 | 120g (1 pack) |
| Cream cheese | 120g |
| Kakao powder (non sugar is better) | 2 tsp. |
| Sponge cake or biscuits | as you like |
| Espresso | as you like |
| Rum or Vanilla extract | as you like |
Featured Products
How to make Non-sugar Tiramisu
1

Prepare the mixer (or cutter). Make Amazake 0 smooth.

2

Add cream cheese in 4-5 parts into mixer.

3

Put sponge cake or biscuits in serving bowls and sop them into espresso.

4

Put the mixture of Amazake 0 and cream cheese in the bowls.

5

Let them in a fridge for more than 30 min.

6

Put kakao powder on the bowls.
(日本語)
ミキサーがない場合は、まず甘酒0をすり鉢などで擂り潰すか、ザルなどで濾しておきます。
クリームチーズをボウルに入れて泡だて器を使ってなめらかなクリーム状にします。
甘酒を少しずつ加えながらまぜ、ミクスチャーの完成です。