No.5512

TAKAOKA CROQUETTE SAUCE RETRO 160ml
Specialty of Takaoka,Toyama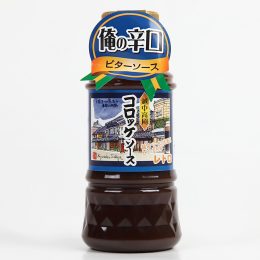 Takaoka is one of the most famous cities for Croquette. That is why this sauce was born.
Apple produced in Takaoka-city and Persimmon vinegar produced in Yamada-village are mixed in this sauce.
Retro is better and spicy type based on naturally brewed soy sauce. RETRO has long history of 65 years,since the end of World War Ⅱ.
Nice combination with Croquette,Kushikatsu,Okonomi-yaki,Tako-yaki,Yakisoba and so on.
Product Summary
| | |
| --- | --- |
| Product Code | 5512 |
| Name of Product | TAKAOKA CROQUETTE SAUCE RETRO 160ml |
| JANcode | 4979369055128 |
| Volume | 160ml (160ml PET bottle) |
| Name of Food | Worcester sauce |
| Ingredients | Sugar,Vegitables and Fruits (Tomato,Apple,Onion,Garlic),Naturally brewed soy sauce,Brewed vinegar (Wine vinegar,Persimmon vinegar),Salt,Protein hydrolysate,Spices,Bonite extract,Sweet sake,Kelp extract/ Alcohol |
| Quality Gurantee Period | 18 months(Normal temperature avoid direct sunlight) |
| Allergen | Wheat, Soybean, Apple |
Nutrition facts( per100g )
| | |
| --- | --- |
| Energy | 119kcal |
| Protein | 1.7g |
| Fat | 0.1g |
| Carbohydrates | 27.8g |
| Salt | 6.9g |
Features
| | |
| --- | --- |
| Sweetness | ★★ |
| Saltness | ★★★★ |
| Richness | ★★★★ |
| Easy to cook | ★★★★ |
| Toyama | ★★★★ |
Supplements
Package Size
Width 55mm
Depth 55mm
Height 128mm
Package Weight
215g
Case Count
10
Packing Size
Width 120mm
Depth 280mm
Height 140mm
Packing Weight
2260g
ITFcode
Category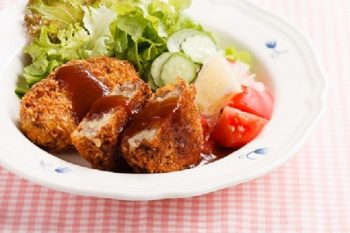 Classic dishes Sauce and Tare